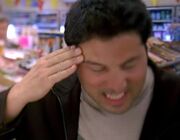 The Telepathic Mutation is the most common neurological mutation. This mutation develops a small, electric organ in the brain, which allows for electroreception. A DNA Alternate detects the electrical impulses in another's brain and interprets this sensory input into understandable words, images, or other perceptions.
Telepathy is the ability to communicate information from one mind to another by electroreception. This can range from the traditional reading of minds to the implanting of thoughts into the minds of the victim. The distance of the Alternate's influence depends greatly and varies according to their potential and degree of control. This ability can also be used to shield a mind from telepathy, by projecting white noise on the electric frequency the telepath uses for electroreception. Also, those with exceptional willpower or training can resist telepathy or make things very difficult on the user (see Matt Parkman vs. Noah Bennet, S03, E17: "Cold Wars")
Advanced Telepathy is an extremely rare and often misunderstood variation of the Telepathy. As per the nature of an advanced ability, Advanced Telepathy is the ability to read minds as well as multiple secondary specializations from the list below, and does not manifest with any secondary. All of the forms may be accessed through an Advanced Telepath,  however, the more specializations they have, the weaker each becomes. This is referred to as the Jack of All Trades rule. For example, an Advanced Telepath with five specializations will be twice as powerful with their five abilities than someone with ten. An Advanced Telepath who has five specializations will be five times weaker in their telepathy than a normal Telepath. With the exception of Matt Parkman, no Advanced Telepath has more than ten specializations.
The complete list of telepathic specializations can be found below: